We are very happy to announce that for season 2017-2018 we will be working with Marilyn Mazur. We are really looking forward to working with her. Marilyn Mazur Percussionist, drummer, composer, bandleader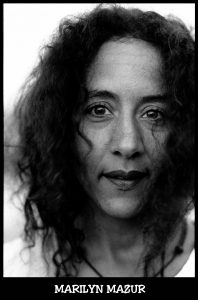 Marilyn Mazur Composer, Bandleader, Percussionist Born 1955 in New York, lived in Denmark from 1961
---
Active in the 70'ies as a dancer, composer and pianist. Switched to percussion and drums as her main instruments when she was 19. Since then Marilyn has been active as a composer, bandleader and musician in a vast number of connections. She has been a member of the orchestras of i.e. Miles Davis(1985-89), Wayne Shorter(1987) and Jan Garbarek(1991-2005).
Marilyn leads her own bands and special projects, often based in Denmark. Besides these projects, she composes music for film, theatre etc. In the more recent years, her music has been heard in:
---
MM's Trylleorkester
(Magic music for and with children,live and illustrated CD )
MM's Future Song
(20 years jubilee 2009, 3 CD-releases)
Percussion Paradise
(2000-2007)
Marilyn Mazur Group
(with i.e. Fredrik Lundin)
Makiko Hirabayashi Trio MM's Celestial Circle
(w. John Taylor, Anders Jormin, Josefine Cronholm, ECM-CD juni 2011)
Eksistens Choir Project
(w. Tritonus choir+Quartet)
Zoom Trio w. Mazur and Mike Sheridan
and in various projects:
The dance-production Blueprint
(w. Åben Dans 2005)
Christian Braad Thomsen's portraitfilm MM-Queen of Percussion
(2006)
All the Birds
(Jazzparprizeconcertrow and dbl.-CD, released 2002)
solo-CD for ECM
(with Jan Garbarek as guest)
2008 Elixir Palle Mikkelborgs Journey to… Camilla Plums gardening program in danish national television Thomas Agergaard Trio and his collaboration w. Reed5 Spirit Cave
(w. Jan Bang, Nils Petter Molvær and Eivind Aarset)
---
2008 was an especially intense and productive year for Marilyn. She was Artist in Residence at the Molde Int. Jazzfestival, where she created 6 different concertprojects/constellations with her own music. The same year she composed new music for i.e :
FlipFlap
(danceperformance for kids)
Sigurd Slembe
(norwegian theatre)
Beggars opera*
(2 hours of live music for Cantabile 2's nonverbal musictheatre)
One Wheel Suite
(for the Tritonuschoir+one-wheel-cycle-percussion for Unicycle VM's opening ceremoni)
* The live-theatre-music for this performance is released in 2010 as one half of a double-CD with Marilyn Mazur Group.
---
Marilyn creates and performs continuously in numerous exiting projects, specialising in large set-ups with instruments from most of the world. She also composes and plays soloconcerts for children and grown-ups.
Marilyn has received many danish and international awards in her long carreer, i.e. the Jazzparprize(01), the Wilhelm Hansens Composers Award and recently the international/german Eurocore.