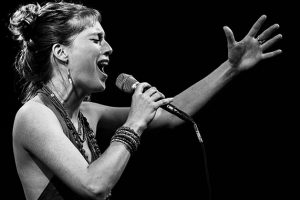 Sarah Klenes (Belgium, 1983) was born in Liège and lives in Brussels. She starts studying music after a 3-year contract as a ballet dancer in the Royal Ballet of Flanders (Antwerp, BE).In 2004, she enters the jazz department in the Lemmens Instituut (Leuven, BE) where she studied with Natasha Roth, Dré Pallemaerts, Pierre Van Dormael, Bart Van Caeneghem.
She goes on in the Royal Conservatory of Brussels with David Linx, Kris Defoort, Christophe Wallemme, Ron Van Rossum from 2006 to 2008 and ends her master in the CNSM of Paris in June 2009 with a.o. Riccardo Del Fra, Glenn Ferris, François Théberge and Dré Pallemaerts.
---
In May 2011, she participated as a full-scholarship student at the Jazz and Creative Music Workshop at the Banff Centre (Canada) directed by trumpetist Dave Douglas. Today besides teaching at the academie of Schaarbeek (BE), she develops her own workshops around voice, improvisation and movement in de PianoFabriek (Brussels) and keeps exploring music in its expressivity and improvised aspect in different projects: the trio OakTree (created in 2009 as à Dos d'âmes, compositions and personal arrangements), the jazz-pop-contemporary group HowTown with the bassplayer Lennart Heyndels (BE), the gitarist Matiss Cudars (LV) and singers Laura Polence (LV), Elina Silova (LV) and Micah Kessel (US), the street-music-theater act Les Superluettes with Géraldine Cozier (Creations 2008 and 2011 at the festival international de Chassepierre), the jazz-folk-improvised 4tet Sallma's Moles with the bassplayer Lennart Heyndels, the violonist Ludovica Burtone (IT) and the gitarist Matiss Cudars (created in May 2011) and 21Moineaux, a duo of original music inspired by William Blake's poetry with the bassclarinetist Yann Lecollaire (FR). The last years, she has been part of the soundpainting collective Matters gathering musicians, dancers and comedians (directed by Augustin de Bellefroid) and of the rock group Kouzy Larsen (Mathieu Dupont).
---
This summer, she's been working on/with Projet Nomade, the new production of the luxembourg interdisciplinary theatre collective Independent Little Lies. Finaly, she is regularly the guest of punctual "cross-over" projects such as the dance performance "Chanson d'eau" of Yaso Romero (2013), the concert "Instant Composition" driven by Kris Defoort at Follow the sound Festival (Antwerp 2012) , the improvised performance around paintings of Luis Pôlet (2012), the music-theater reading-performance « Petite Narration » (Wojtek Ziemilski) with Fabien Dariel and music by Yann Lecollaire (Brussels 2011), ciné-concerts on experimental short-films with Yann Lecollaire (Brussels 2010), the Tribute to Charles Mingus de Riccardo Del Fra (Paris 2009), le Mister Oz Bigband de Nancy (preview of Thomas Dutronc, Luxembourg 2008) and also André Klenes' duo, stringquintet and Moonly Delights.
---
http://sarahklenes.com/medias.html