Coach:
Louis Sclavis
We are very honoured working with band leader Luis Sclavis for the CrissCross Europe 2016. Louis will be working one week with the band in Tilburg beginning of October 2016, coaching the musicians and taking them to a higher level.
Louis Sclavis and the Criss Cross Europe Band 2016 will be artists in residence at concert hall PARADOX in Tilburg and will be playing the kick-off concert of the CCE2016 tour across Europe there Friday 14nd of October 2016.
Musicians:
Morochovic Pavel  (piano) SLOVAKIA Lorenz Heigenhuber  (double bass) GERMANY Maxime Bender  (sax) LUXEMBURG Neil van der Drift (drums) NETHERLANDS Jan Daelman (flute) BELGIUM
Jan Daelman – Flute – Belgium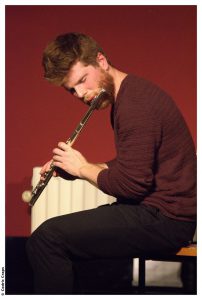 Jan Daelman (1990) is a Belgian flute player best known from his improv-duo Keenroh with pianist Thijs Troch. In 2014, they released their debut album 'Keenroh' on the Ghent based El Negocito Records label. In 2015, after winning the Young Jazztalent Ghent award, they extended to a nine piece band and released a second album 'Keenroh XL' (Bart Maris/Thomas Jillings/Marti Melia/Ruben Verbruggen/Niels Van Heertum/Thijs Troch/Laurens Smet/Teun Verbruggen)  In april 2016 his quartet Kabas (Thijs Troch/Nils Vermeulen/Elias Devoldere) released the album 'Abel' on vinyl, again on the El Negocito Records label. Daelman functions as a tenor saxophone player in the impro/drone collective Residuum Free Unit (Dirk Serries/Thijs Troch/Nils Vermeulen/Bert Minnaert) and plays EWI in synthesizer-mayhem-formation Glin Fraktion (Thijs Troch/Seppe Gebruers/Bert Minnaert). Together with Dirk Serries and Thijs Troch he forms the minimalistic DST trio.  Furthermore he is also active in the new group The Milk Factory (Viktor Perdieus/Edmund Lauret/Thijs Troch/Kobe Boon/Benjamin Elegheert), a duo called Peedved with Nils Vermeulen and an exciting new project called Les Biches De Milleseptante (Teun Verbruggen/Bert Minnaert/Thijs Troch). As a sideman he contributed to the project 'Fair is foul and foul is fair' from Italian singer Costanza Alligiani (Thomas Jillings/Thijs Troch/Armando Luongo/Danieli Cappucci). The album was released in 2014 on the Italian label 'Improvvisatore Inovolontario'.
---
Sound/Video: KEENROH XL https://soundcloud.com/keenroh/sets/keenroh-xl-enr0043/s-05wDe KABAS https://soundcloud.com/kabasmusic/sets/kabas-abel/s-8qJlC KEENROH https://soundcloud.com/keenroh/sets/keenroh-keenroh-2014-enro24/s-D7jLdhttps://www.facebook.com/jan.daelman.1
MAXIME BENDER – SAX (LX)
Born in 1982, Maxime Bender is a composer/multi- instrumentalist: tenor saxophone, soprano, and alto, flute and piano.  The saxophonist Maxime Bender is part of a new young jazz artists generation from Luxembourg, inspired by a large scale of genres and moving away from the typical jazz routine. As a leader in several bands, he takes advantage of a multiplicity of projects to showcase his different facets as a composer and saxophone player: the Maxime Bender 4tet, the Maxime Bender Orchestra, the Maxime Bender Group featuring David Binney and the last new project Maxime Bender Universal Sky.  Maxime Bender collaborates with musicians like Anne Pacéo, Manu Codjia, Oliver Lutz, Philipp van Endert and others. His last album « Path of Decisions » will be released with his Quartet on the French label Laborie Jazz in September 2016.
---
Sound and video: Website: http://maximebender.com/  music:LX website: http://www.musiclx.lu/artist/jazz-world/maxime-bender.html  Video: https://www.youtube.com/watch?v=2cuFLbQ1LDY
PAVEL MOROCHOVIC – PIANO (SLO)
Pavel Morochovič a Slovakian pianist and composer burst onto the Slovak jazz scene in 2014.  His debut release, eight song trio record, titled Awakening, features a unit of interconnected motives built on the original music fluently interwoven by genres like jazz, classical and world music. The record was set for April 2, 2015, released by Hevhetia. Pavel enlists renowned Slovak musicians: bassist Juraj Griglák (Ron Affif, Frank McComb, Poogie Bell, Slovak Philharmonic Orchestra) and drummer Martin Valihora (Hiromi, Harry Sokal, Lee Ritenour, Ron Affif, Frank McComb, Mezzoforte) for this project. "When writing and arranging my compositions for The Awakening I felt freedom as never before as the trio consisted of such great musicians who really liked my music and contributed a great deal to the project.", Pavel says. Although the recording session was their first meeting, it was soon clear that they will continue to spread out the music as a stable jazz piano trio.
LORENZ HEIGENHUBER – DOUBLE BASS (G)
"Lorenz Heigenhuber was born near munich and raised by two classical musicians. He began playing the piano at an early age and discovered the electric bass at the age of 12. After some time studys in classical double bass followed, and the first jazz experiences at the bavarian youth jazz orchestra were happening. Turning 18 Lorenz began studying electric bass at the Richard Strauss Conservatory respectively later University of Music and performing Arts Munich. He soon became a main member of the southern german jazz scene and a well respected bass player both by his fellow colleagues and the audience. He lives as a freelance musician, performing and recording with various artists such as Bastian Jütte, Christian Elsässer Orchestra / Quartet, Peter O'mara, Claus Raible, Gregory Rivkin, Peter Tuscher, Walter Lang, Harald Rüschenbaum, Jamaram, Jesse Boykins, Takuya Kuroda, Konrad und der Löwe, Rickie Lee Kroell, Maria Rui. Concerts brought him to Hungary, Chile, Italy and France and Austria."
NEIL VANDERDRIFT – DRUMS (NL)
Neil van der Drift, born in Drunen, the Netherlands, started playing the drums at the early age of 7. He initially started off at the local music gild, where the main focus was on classical percussion. At the age of 13, however, he transitioned to a full time focus on playing the drums.  Throughout his middle and high school years, Neil spent much time driving various musical activities. For example, he played in various rock bands, and was a key member of the marching percussion group Percussion Unlimited, with whom he won several awards in significant international competitions.  Since then, Neil successfully completed his formal education at the Tilburg Conservatory with a B.A. in 2012 and a M.A. in 2015. During the last phase of his education, Neil focussed, aside from playing the drums, on his composition work, for which took classes with, amongst others, Hans van Oosterhout, Joost Patocka and Franz von Chossy.  Aside from Neil's activities as band member, in 2014 he started his own group, aptly called the Neil van der Drift Group. The group consists of 10 jazz musicians, but they regularly cross over their style to classical and world folk music. The group consists of a traditional jazz quintet with 2 brass players, strengthened by a singer and and a classical string quarter. Creating his own musical arrangements, Neil successfully toured with this group through China in 2015, where they performed 21 shows over a 5 week period. Later that year, he released his critically acclaimed album New Old City as well.
---
www.neilvanderdrift.com
Partners:
Muzieklab Brabant (NL) + Paradox
Jazzlab Series (BE) + De bijloke concertzaal
Unterfahrt (G)
Music:LX (LUX)
Music Centre Slovakia (SLO)